Biography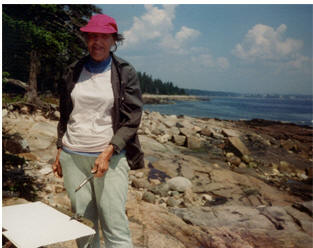 Irene Aunio-Saasto was born March 27, 1919 in Isokyro, Finland. Aunio was a life-long painter, particularly of watercolor and oil landscapes and waterscapes. She was well established in the Finnish community of New York. Aunio painted professionally under her maiden name, Irene Aunio, for the majority of her career as an artist.
Aunio came to the United States in 1923 via Canada, with her parents, Walter Aunio and Hilda Latvala, when she was 4-years-old. The family lived in "Finntown" (Sunset Park), Brooklyn, New York. Walter was a carpenter and Hilda ran a photography studio. Walter was also the bartender and Hilda was the cook at the Imantra Hall, a Finnish Society which catered to the social needs and preserved the cultural roots of many Finnish-Americans.
As a child, Aunio gravitated towards the arts, initially using dance as an outlet for her high-energy personality, before inevitably discovering painting. Later in life, Aunio would attribute her discovery and passion for painting to a vision she had at the age of 14. At this time, a disembodied voice identifying himself as El Greco came to her one afternoon and told her she should paint. The next day, Aunio visited El Greco's The View from Toledo at the Metropolitan Museum of Art and bough her first paint set soon after. After that day, she dedicated her life to the pursuit of painting.
Aunio began taking formal lessons in art during high school, attending a special arts curri
culum that allowed her to spend half the school day painting. She would later continue her education at the Pratt Institute, the Brooklyn Museum and eventually the Art Students League of New York. It was during her time at the Art Students League that she achieved her first bout of recognition. In 1952, she was encouraged by her instructor, Bernard Klonis, to submit a painting to the American Watercolor Society (AWS). Much to Aunio's surprise, her painting was accepted and a year later, she was awarded official lifelong membership to the prestigious society. Her works received much attention in group and solo exhibitions, becoming a part of numerous permanent collections and museums throughout the USA.
A major accomplishment in her career was her solo exhibition in the Brooklyn Museum in 1966. After this point, she began teaching to help pay for her supplies and tuition. She became widely sought after as an instructor at both the Brooklyn Museum and the New York Adult Education Project. Teaching grew into a life-long passion, which she would continue until her death. Aunio found herself a busy woman throughout her life, especially when she was raising her daughter and twin sons. In addition to working to afford her supplies, she also received financial support from her husband, Ernest Saasto, attorney, Army Lieutenant, and fellow Finnish-American. Fortunately, Aunio continued her painting career alongside her duties as wife and mother, an especially difficult endeavor for women of her time.
Aunio began with oils, but her medium of choice was always watercolors, valuing them for their softness and fluidity. These elements were a staple in her work. Aunio exercised a balance between controlling her paints within her composition, while still allowing the looseness of her paints to flow into each other. Her body of work is a combination of her love of painting and her love for nature. Aunio's love of nature, especially of birch trees, can be attributed to her youth, running around in the fields and woods of her native Finland. In adulthood, Aunio rarely painted from references, preferring to paint on-location, often spending a great deal of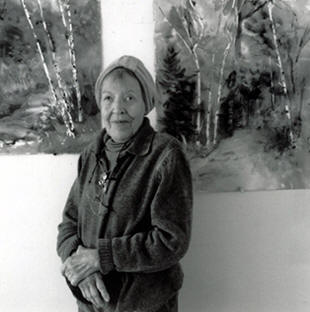 time finding the perfect scenes to depict. Aunio worked on a seasonal basis, spending the summers painting boat harbors and using annual skiing trips with her husband as an excuse to paint. Later in life, she turned these trips into watercolor workshop retreats open to the public. Aunio did not just restrict herself to landscapes, often painting nudes, animals and interior still lifes as well. Aunio believed painting to be a lifelong learning process. To Aunio, there was something even a veteran painter could learn from others, especially young students just beginning to paint. Her workshops and demonstrations were a fulfilling opportunity for her to share her passion for art-making with others.
Towards the end of her life, Aunio continued to be involved in exhibitions. Of significant note is her participation in the Washington Square Outdoor Art Exhibit, which she attended every Memorial Day and Labor Day weekend since 1952, until her death. In 2003, Aunio opened her own gallery in Huntington, New York, where she was proudly able to show her ever-growing body of works. During Aunio's eighty-year career, she produced thousands of watercolor and oil paintings, many of which crowded her studio in Rocky Point, NY, and her gallery in Huntington, NY. Her overall output, combined with the lengths she went to perfect her painting until the very end of her days, is proof that her drive to create never left her. She often stressed the importance of sacrifice, realizing that she needed to commit herself to painting, regardless of what circumstances came her way.
Aunio remained dedicated to her work until her death on February 2, 2013. Aunio's husband, Ernest Saasto, preceded her in passing in June of 2000. Her daughter, Laurel, preceded her in passing in February of 2011. Aunio left two surviving sons, Ernest and Robert, both attorneys in New York, a step sister, Tuulikki Hanninen, in Florida, and five grandchildren (Ryan, Kimberly, Ernie, Kevin and Eric) on Long Island, New York. In addition, Aunio leaves behind many cousins from the Aunio and Latvala families in Finland.
She will be missed, but her art survives.